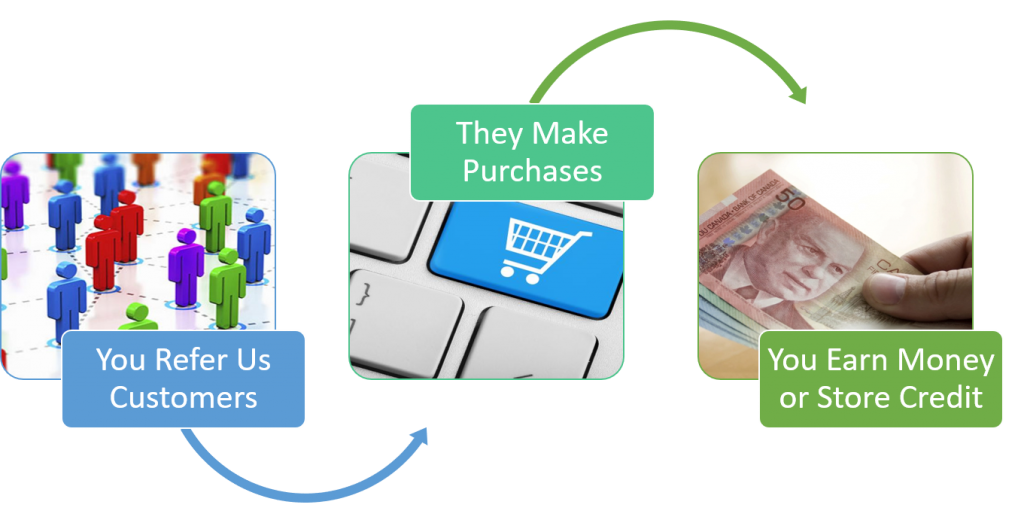 Refer Us Customers, Earn Money Or Store Credit.
Making money as an affiliate is simple. When you send new paying customers our way, we give you a commission.
We offer generous 15% commissions, lifetime customers, and 90-day tracking.
Earn money or store credit.
Who Can Become An Affiliate?
While we sell exclusively to Canadians, anyone age 19+ anywhere can become an affiliate.
Who Can I Promote To?
We sell and accept promotion exclusively to Canadians, ages 19+
How Can I Promote My Affiliate Links?
There are all kinds of ways you can refer us customers and earn commissions!
Link to us on your website in a blog post, article, or review
Use some banner ads from the library that we provide for our affiliates
Share your links on social media, or in your YouTube video descriptions
Email your subscribers
Share your link with friends and family
Recommend one of our products specifically, and link to that.
How Are Sales Tracked?
When you sign up with us as an affiliate, you can generate custom links to our site that contain a unique tracking code. You can link to our homepage, or to any product category or product!
Whenever anyone follows one of your links and makes a purchase (within 90 days of following a link), you'll be credited with that referral and that customer will be yours for life – you'll earn recurring commissions as well.
Signing up as an affiliate takes just 30 seconds and you can start referring people immediately after.
Please note: Affiliates cannot earn commission on their own orders (self-referrals). Affiliate commissions are calculated on product value only and do not apply to taxes or shipping fees.
How Are Payments Issued?
We issue payments via E-transfer. If you require other options, please let us know. Payments are issued monthly on all balances over $100, or 3 months after 1st referral, upon request.
Register below in 30 seconds and get started today!
If You Are Using Firefox, Brave, Or Other Similar Browsers, Our Sign Up Form May Not Load For You. Click Here To Register!